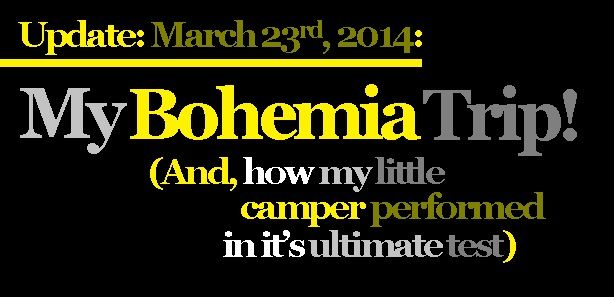 Sorry, everyone, for slacking so hard on getting this update posted...! The truth is, I had about a zillion photos to sort through, and a months' worth of muscle soreness to overcome, before I could even

think

of getting this post up. So, with those excuses now solidly out of the way, let's get started...!
My annual Bohemia pilgrimage was scheduled this year for Saturday, February 1st, through Sunday, March 2nd, 2014. That represents my actual time at the mountain, snowboard patrolling (I secretly hate the term "ski patrolling", I think for obvious reasons...!); however, travel time added three days going up (Wednesday, January 29th; Thursday, the 30th; and Friday, the 31st), and a super-quick two days to return home (Monday, March 3rd; and Tuesday, the 4th). This added up to a

35-day adventure

, in which the camper was to play a pivotal (if not, absolutely essential) role.
The role of the camper for this trip was twofold: one, it would be my "hotel" for both the trips up, and back... saving me time, and hotel/motel money, along the way.
And secondly: it would be a handy moving van, to get all of my supplies and provisions to Bohemia, and back.
Mount Bohemia, if you don't know, is way out in the boonies of the Keweenaw Peninsula, in Michigan's Upper Peninsula. It's not exactly the sort of place where there's a grocery store on every corner; in fact, the closest Wal-Mart is about an hour away, in Houghton (see map, below). Indeed, the accommodations at Boho (as we call it) are pretty damn spartan... which, of course, is a large part of the appeal of the place. It's not for everybody; you have to be a hardy soul to venture so far, to ride something so remote, so far outside the mainstream of skiing and snowboarding, so unforgiving, and so dangerous.
And those of us that live near, work at, or frequent the place really do prefer it that way.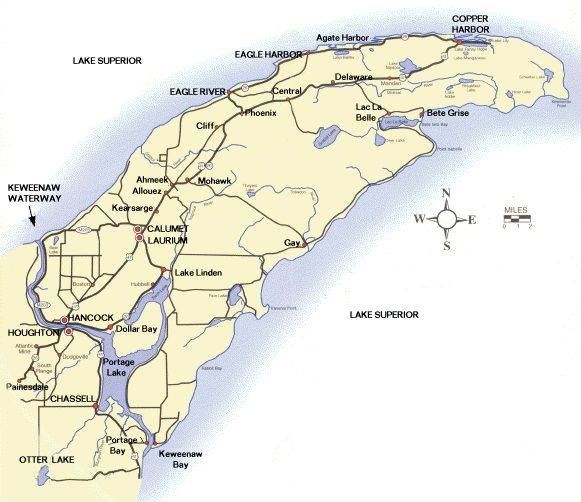 This is the Keweenaw Peninsula on Michigan's Upper Peninsula. Mount Bohemia is about 1/2 mile from lac La Belle (upper right), while the nearest Wal-Mart is way down in Houghton (at the lower left). US 41 runs between Houghton and Hancock, all the way to Copper Harbor (near the end of the peninsula); MI-26 runs between Copper Harbor and Eagle River, along the Keweenaw's North Shore, before joining US 41 in Phoenix. MI-26 splits off again in Laurium, and tracks south to Lake Linden, Dollar Bay, and ultimately to Hancock. This year, I also drove MI-203, which splits off toward the northwest at Calumet, and turns south along the Portage Canal (the "Keweenaw Waterway" on the map) into Hancock. I also drove around on all of those roads between Lake Linden, Mohawk, and Gay, into Bete Grise and Lac La Belle. The Gay-Lac La Belle Road is especially scenic...
My itinerary was simple and straightforward: take I-17 north to Flagstaff, Arizona; jump on I-40, and go all the way through New Mexico and Texas to Oklahoma City, Oklahoma; then, take I-44 to St. Louis, Missouri; then, I-55 to Bloomington, Illinois; I-39 into Wisconsin; I-43 to Milwaukee and Green Bay; then, finish my trip by taking US 141 and US 41 straight north to Bohemia. The whole trip (one way) would be 2253.2 miles, which would take me from the arid desert of Arizona, straight into the jaws of what turned out to be one of the coldest, harshest winters in Midwest history.
Route 66, Winslow, Arizona. This is "The Corner" that was made famous by The Eagles song, "Take It Easy". This would be the first of many stops and off-the-beaten-path excursions that I would take, during my trip to and from Boho. After all, what good are road trips without hijinks and adventures...?!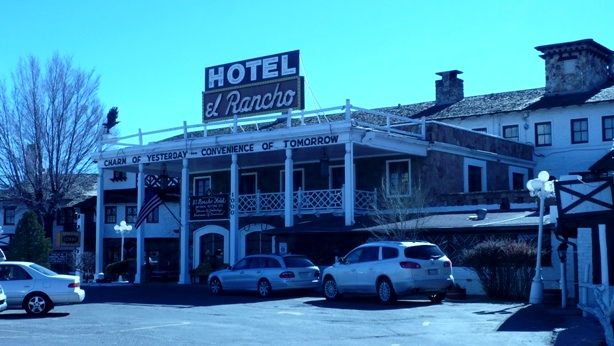 The famous "Hotel El Rancho" in Gallup, New Mexico. I stop here, every time I pass through; it's an old haunt of some of the movie starts of a bygone era, when westerns lit up the silver screens back in the heydays of the 1950's and 1960's. Some of these luminaries included Betty Grable, Errol Flynn, Humphrey Bogart, and some "B" grade actor that would later become much more famous as America's 40th President, Ronald Reagan. All of the menu items are inspired by, and named after, the Hollywood stars that would frequent the El Rancho; it truly is a specimen of living history along New Mexico's old Route 66.
The famous Cline's Corners, just east of Albuquerque, New Mexico. Built in 1937 at the junction of [then] Routes 66 and 285, it still survives as one of the loneliest gas stops along I-40 through eastern New Mexico.
The trip wasn't particularly "easy". It included about 44 hours of driving time, with only a few rest stops along the way for quick naps: one in Albuquerque, New Mexico; another near Rollo, Missouri; and, an especially frigid stop in Hudson, Illinois (just north of Bloomington/Normal, off of I-39), where temperatures hovered at around -4 degrees Fahrenheit. The camper's sleeping bag is rated to zero degrees; thankfully, it's just a little bit stouter than advertised, and managed to keep me comfortably toasty through the night.
However: for the most part, I wouldn't classify my trip as "particularly difficult", either. The truth is, the camper tows really, really well. It's also quite efficient, with the Yaris netting approximately 26 mpg on the whole trip (not too bad, given the mountainous terrain that I had to traverse, both to and fro...!). And it's extremely handy, very quiet, very warm, and very comfortable to sleep in.
All in all, the camper performed like a champ, the whole way to Boho, and back, with no problems whatsoever.
Almost to Boho...! The camper at the Houghton, Michigan Wal-Mart, patiently waiting while I shop for some last-minute supplies...! Note the road salt... an indication of just how bad the roads were through northern Illinois, Wisconsin, and into Michigan.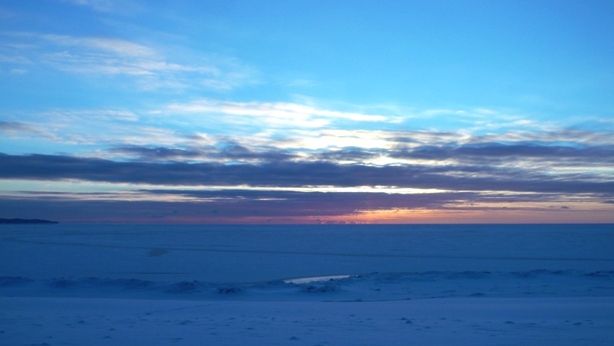 Sunrise over Bete Grise Bay, just up the road from Mount Bohemia. This, is what makes road trips worthwhile...!
The Yaris, next to a beachside restroom on Bete Grise Bay. Note how the snow is piled up as high as the car...! While the camper performed very well on these sorts of snow-covered roads on the drive up to Boho... I decided that once I actually got to the mountain, I would unhook the camper from the car, and leave the camper parked for the duration of the month in Boho's lower parking lot. This would save me some gas (and stress on the Yaris) during my weekly errands, while making these weekly commutes a little less stressful on me, as well. After all, I figured I was lucky enough to get to Boho safe and sound, and in one piece; I simply didn't want to press my luck any further, if I didn't have to.
Lac La Belle Lodge, on Lac La Belle, Michigan. This is the closest gas station/restaurant/store to Mount Bohemia. The restaurant is excellent; I ate there 2-3 times a week, every week, while I was at Boho. But as far as gas and supplies go, it's a bit pricey, and doesn't have nearly the stock that Houghton's Wal-Mart has... obviously! This meant that those weekly trips into Houghton to do shopping, laundry, and mailing errands were an absolute necessity.
Mount Bohemia, as seen from Lac La Belle. It's bigger than it looks...! It's also extremely compact, and complex... and some of the harshest, most challenging, and most hazardous ski and snowboard terrain in North America, lives right here.
It's why we love it so much...!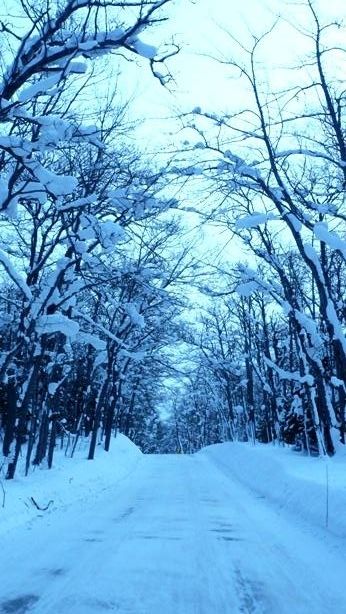 Lac La Belle road, between US 41 and Boho. Did I mention that some of the most gorgeous scenery in the whole universe also lives here, as well...?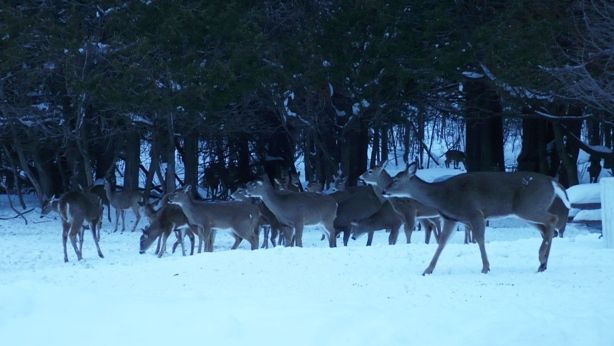 Every week, I'd take a day off to run into Houghton, and do errands. Each week, I'd take a slightly different route into, and out of, town- just to keep it new and interesting. On this day, I took US 41 into Copper Harbor, then took MI-26 through Eagle Harbor to Eagle River, along Michigan's North Shore. In Eagle Harbor, I spotted this herd of deer. A few minutes later, another man drove up in his car, stopped, took out a bushel of carrots, and started feeding the deer. Excited, I [quietly] walked over, and asked him if I could feed the deer some of his carrots, too. "Sure!", he said. "Help yourself...!"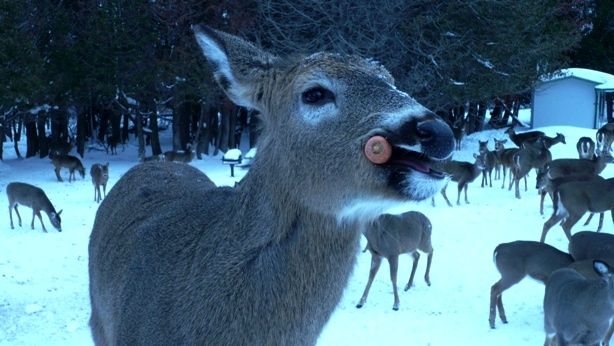 This is a deer, munching on the carrot that I've just fed him. This was one of the highlights of my entire trip...! It's not very often that you even get to see a deer, up close and personal (they're generally pretty skittish animals that will run at the slightest hint of human presence)... let alone, have one eating right out of your hand. They are graceful and beautiful animals. Hanging out with them for a good half-hour or so, was a special treat.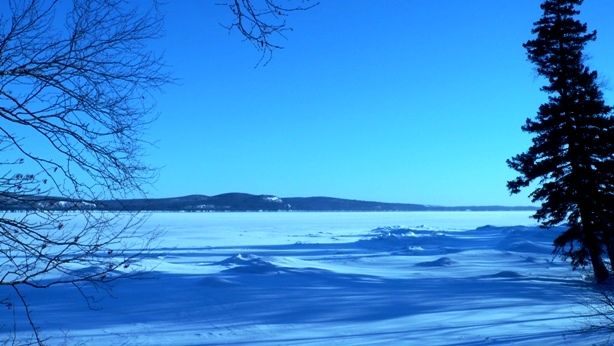 Bete Grise Bay, looking north, from Gay-Lac La Belle Road. Lake Superior was almost entirely frozen over this year, making for some interesting photo opportunities; the lake never, ever looks this calm, and peaceful... especially in the winter...
This is the yurt that I lived in for the month that I stayed at Bohemia. It's warm, insulated, heated, roomy, and spacious... things that the camper, are not. Look at how high the snow is piled up around the yurt! That yurt, incidentally, is four feet off the ground, at the floor; that gives you a pretty good idea of how much snow they had at Boho this year...! (Seven feet at the base, and ten feet at the summit...!)
In addition to the snow, the temperatures were also the harshest in recent history, averaging around ten below zero for most of my trip, with wind chills hovering between 20 and 45 below, depending on wind speed (which stayed between 10 mph and 20 mph the whole time I was there, with gusts reaching 40 to 50 mph). It was incredibly freezing...! But thanks to the camper, I had more than enough supplies and provisions to make it through just fine.
US 41, between Boho and Copper Harbor, Michigan, on an unusually clear, calm, and sunny day.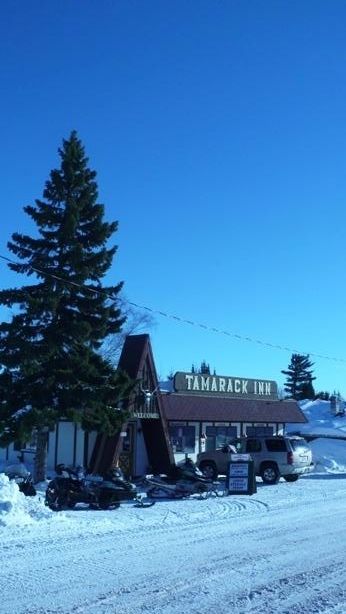 The famous Tamarack Inn in Copper Harbor, Michigan. I made a point of eating here every chance I got...! Their breakfasts are extremely tasty, and extremely easy on the wallet...!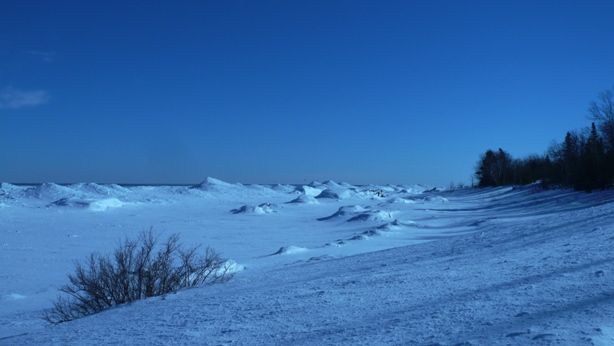 This is the North Shore, as seen from MI-26, between Copper Harbor and Eagle Harbor, Michigan. Note how the ice looks like frozen waves; those are actually piles of ice that are caused by the icepack being driven into shore by the stiff winds blowing over the lake.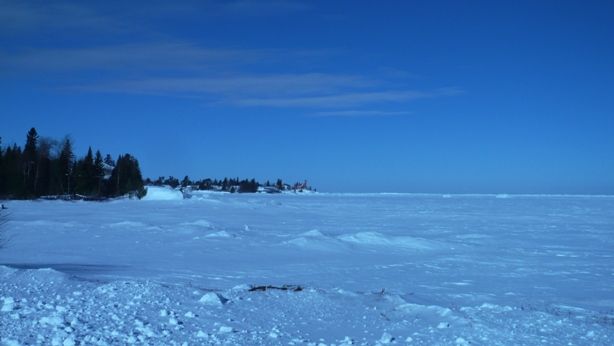 Eagle Harbor, MI, as seen from MI-26.
Phoenix Church, Phoenix, Michigan.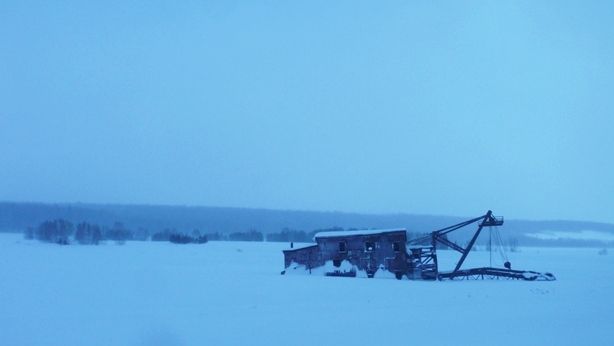 Quincy Dredge Number Two, sunken in the shallow waters of Torch Lake, along MI-26 near Lake Linden, Michigan.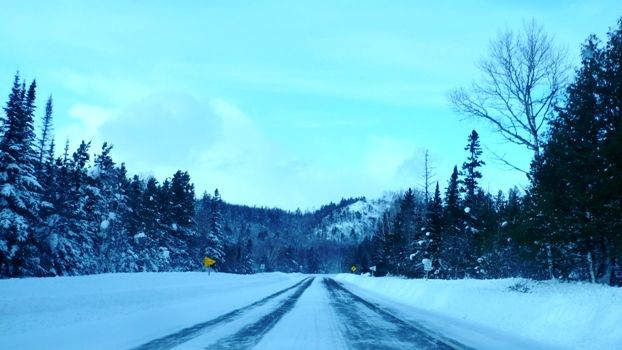 Driving north on US 41, back toward Mount Bohemia after a day of shopping, and doing laundry.
Leaving Mount Bohemia: 6 pm, Sunday, March 2nd, 2014. The camper got a lot of attention from the employees, and my fellow ski patrollers, at Bohemia. Many of them wanted one...! "It's easy enough to build- so, just build it...!"
As I mentioned earlier, my drive home only took two days (instead of the three that it took to drive up)- starting at around 6pm on Sunday evening, and arriving promptly back in Phoenix, AZ around 6pm Tuesday evening. Why the rush, you ask...? Well, I was trying to beat a rumored storm that was supposedly causing havoc along the I-44 corridor; turns out, the storm moved much faster than estimated, and it beat me across the Midwest by a full day (or so).
A typical "camping area"- this time, the rest area on the westbound side of I-44 near Rolla, Missouri. Nobody ever gave me any grief about me "camping" in these rest areas at all; indeed, nobody really seemed to even notice my presence. The camper really does resemble a small cargo van, much more than it resembles your "typical camper". The trick is, to be stealth enough that nobody sees you getting into the camper; even if they see you getting out, it's already far too late to accomplish much of anything by yelling at you.
The only time that anyone even noticed me at all, was when I took a quick nap near Albuquerque, NM. I always made a point of parking at the far end of the rest area, as opposed to in between the many 18-wheeler trucks that often park in rest areas overnight. I was always afraid that one would run into (or, even worse, over) me; the Yaris/camper combo is, after all, a heck of a lot smaller (and harder to see) than your typical 18-wheeler, and truck drivers do get mighty tired out there on the road...
So, on this night, I parked waaaay out in left field, all by myself... only to be abruptly awakened less than two hours later by the air brakes of a tractor-trailer, pulling up to park directly beside me. Frustrated, I got up, kicked the rear spring door open... the gas springs, making their usual Darth-Vader-breathing-in-his-helmet, "whoooooooooosh" sound... which scared the living shit out of the truck driver who had stopped to fix a light,
and was standing right beside my camper door as it opened. The gas springs completely startled him, and I'm sure the last thing he was expecting was some huge dude to jump out of a Darth Vader cargo trailer in the middle of the night...
That said: rest areas are always fair game. People sleep in them, in all sorts of vehicles, all the time. It's the Wal-Marts of the world (or, other private property) that you really have to be mindful of.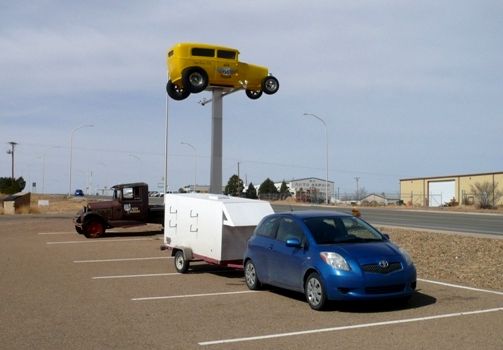 The Yaris/camper combo at the Route 66 Auto Museum in Santa Rosa, New Mexico.
Almost home; the sun sets over the Mogollan Rim, just east of Payson, Arizona.
The only "problem" that I had with the camper at all, only surfaced a couple of days after I'd returned from Bohemia. As I was shuttling some stuff between my old apartment, and my storage unit, I noticed a very loud "clacking" coming from the axle of the trailer. Being only a few blocks away from my trucking company's main maintenance yard (near 51st Ave. and Glendale Ave), I quickly diverted over there, creeping along at slow speed, with the hazards on... only to find upon my arrival that several of the lug nuts (that hold the wheels on to the axle hub) had worked loose... very loose, actually... allowing one of the wheels to flop around on the hub. A quick tightening and torqueing was more than enough to fix the problem, in short order...!
Next, I'll be using the camper to move into my new apartment. After I'm all settled in there, I'll be taking a few trips around the southwest...! Stay tuned...!
______________________________________
Recent Stats:
Average mpg: about 26 or so, over roughly 4,400 miles
Miles traveled (as of March 4th): 6507.3, plus maybe a hundred toting my valuables across Phoenix between apartments.


Total maintenance: A few squirts of axle grease in each hub before I left town, and re-tightening and re-torqueing the wheel lugs a couple of days after I got home.