This past weekend, I had the chance to take the camper out for it's maiden voyage- a quick weekend jaunt up to the high country and back. Besides getting out of town for the weekend, the other goals were to make sure the camper would be warm enough to sleep comfortably in without the space heater (my sleeping bag is rated for -20 degrees F., so I figured I'd be fine); to see what the fuel efficiency is of the Yaris, while pulling the camper; and, to break in some newly greased wheel bearings. Below are some of the photos of my trip (featuring the camper), and a few things that I learned along the way: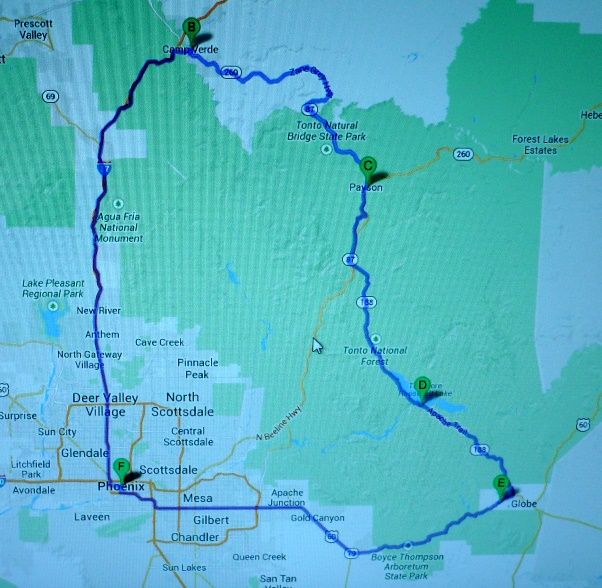 My route took me from Phoenix, up a steep mountain climb up I-17 to Camp Verde... then, east on AZ 260 through the Coconino and Tonto National Forests to Payson... then, south on AZ 87 to AZ 188, across the Roosevelt Dam, and into Globe... and then, finally, through Superior on US 60, back to Phoenix. My plan was to camp for two nights on the road- but one night ended up being more than enough to complete this trip, even while driving (and photographing) it all at a very, very leisurely pace...
A study in contrasts: the same day that I was leaving for my camping trip, our roommate Liz and her new guy were also leaving town on a camping trip of their own. This is the new boyfriend's rig, and my little setup parked in front of it. The very back of my trailer almost lines up with the front of his trailer. I'm glad that I got stuck with my gas bill, and not his...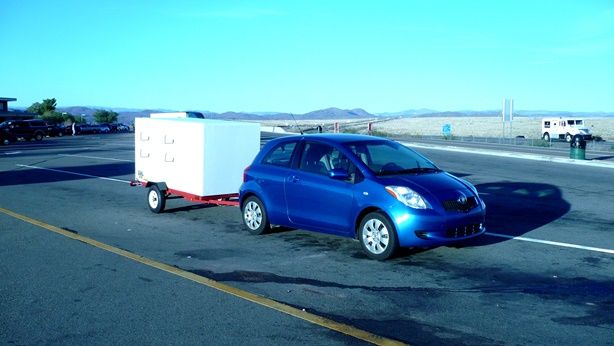 The camper at the Sunset Point rest area on I-17. The climb up through the mountains was a little harder on the 'ol car than I thought it would be. As you can see from this photo, the camper has the aerodynamics of a small billboard; this was my ultimate undoing on this "orientation trip"; my camper oriented a whole lotta gas money right out of my wallet, and into the fuel tank of the Yaris... yeesh...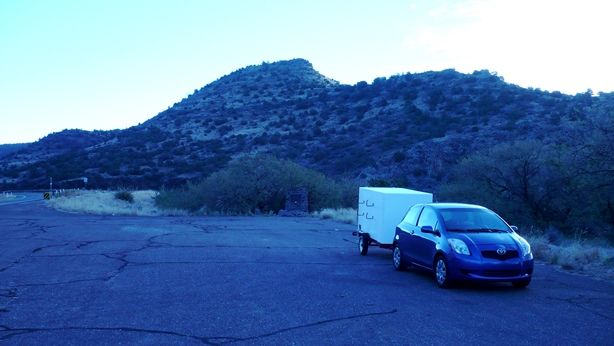 My camping spot Friday night; a place called 13 Mile Rock, on AZ 260, east of Camp Verde, AZ. It looked like a small, unimproved rest area... or maybe it was a very large scenic overlook parking spot. Either way, it was big, smooth, and quiet. Perfect for an evening stay...! And I slept wonderfully, for a whopping 12 hours...! Best night's sleep I've had in some time, actually...
Two drawbacks that I discovered, though. The first being, while it's quite warm and comfortable inside... without venting, it also gets quite humid (from my exhaled breath, plus my sweat being trapped in an unvented compartment all night long). Secondly: a window would be really nice to have, to have some view of the outside world. And a working cellphone charger would have been wonderful, too; time for a new one, I guess.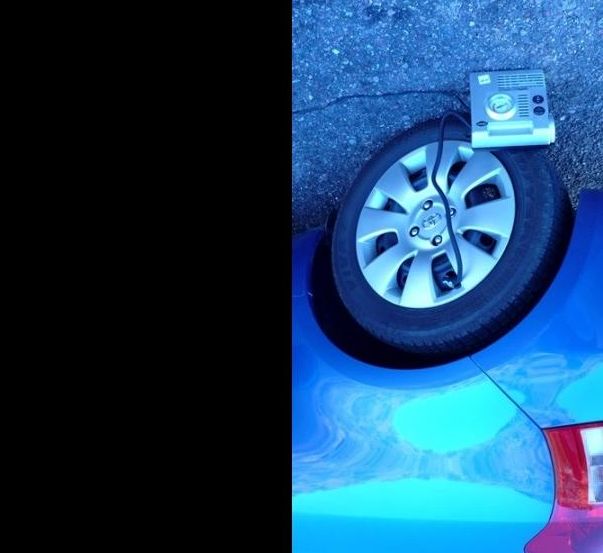 Thankfully, my mini-air-compressor was working great- and good thing, too, because this tire was flat when I woke up Saturday morning...! But I always travel well-prepared for (almost) anything. The compressor costs $19.00 at Wal-Mart, and runs off of the 12-volt power supply in the car console.
I learned that the easiest way of making the bed in the morning, is just to slide the mattress halfway out the rear of the camper...! The light weight of the mattress makes this easy to do, and saves me from having to crawl all over the bed, while I'm trying to make it. Once the bed's made up, the mattress slides right back in, no worries at all...! I left the pillows to dry out on top of the shell while I made the bed.
Snow...! At the intersection of AZ 260 and 87. The roads were a bit icy and wet through this stretch. The Yaris pulled along as if it weren't towing anything at all, straight as an arrow the whole way, although still burning up copious amounts of fuel along the way, and still struggling a bit on the steep climbs.
At a $20-per-night campground that I stumbled upon near Payson, AZ, with ridiculously small campsites, a busy thoroughfare mere yards away, and lots of humanity around. My camping fee Friday night...? Free... and peacefully quiet, with not a soul anywhere to be found within miles. Perfect...!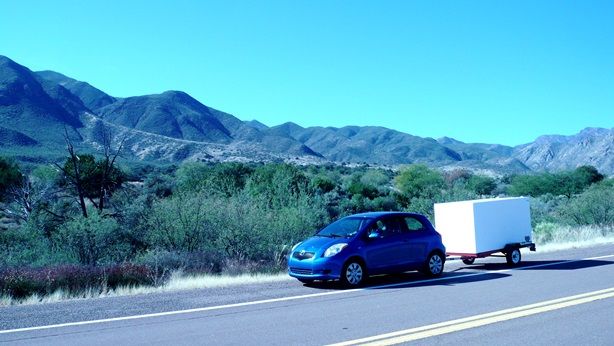 At the AZ 87/188 junction. It was here that I really started to panic; my fuel mileage was somewhere between awful and atrocious, and the next gas stop was a long, long way away. The average fuel consumption on this trip...? 26.16 mpg. Far short of the 30 mpg. I was shooting for.
Near Cholla Bay, on Theodore Roosevelt Lake. As you can see from this angle, the airflow tends to go up and over the car just fine... but then, it runs headlong into the top foot or so of the camper shell, which- of course- is oriented vertically (relative to the airflow). That's four square feet of surface area, plus about two more square feet along each edge. These eight feet of presented area acted like an anchor on the car, for the whole trip. How'd I figure this out...? The dead bugs splattered all over the periphery of the front of the shell was a dead giveaway... no pun intended.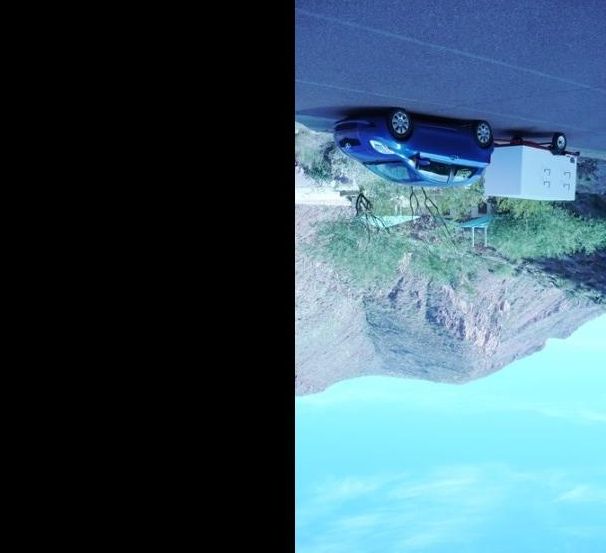 On Apache Trail, AZ 88, in front of Roosevelt Dam. The small car, and small camper, allows me to easily navigate anywhere that a small car, sans trailer, can go.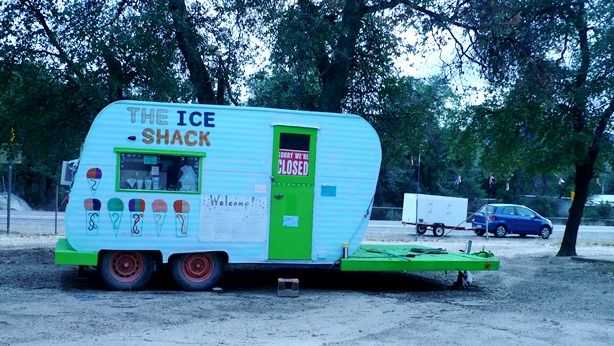 A study in generational contrasts; "The Ice Shack", somewhere between Miami and Superior, AZ.
Total miles this trip: 342.5
Total miles traveled so far: 502.9 (or so).